A Puny Lunge at Immortality
Life as I knew it took a vibrant twist when I left Hong Kong and became a communications student at Mitchell College (Charles Sturt University) in the 1980's.  Bathurst was a long way from Hong Kong.  At first I kept the curtains in my room firmly shut, because the wide-open field outside my dorm window was too confronting.
Within a few weeks, however, I had friends and that made all the difference to the girl from Hong Kong.
Without a doubt, the most terrifying person at Mitchell was our writing lecturer Peter Temple.
—
Peering from behind his glasses as if he were gazing out of a window, he had this soft South African accent and a laugh that was more a whinny.  Likeable yet fearsome, he was by far the toughest of our lecturers.

Peter Temple used to leave our corrected assignments outside his office.  The door was always shut.  One day, I arrived to see a student named Tim pick up his assignment.  He searched for the mark on the back page of the assignment and then began to shout abuse and kick Peter's door.  Clearly, his assignment had failed to impress our writing lecturer.
"You bastard!" Tim cried as his foot pounded the wood, echoing down the hallway.
Suddenly, the door opened.  I don't know why, but it had never occurred to me that when Peter's door was closed, he was actually in there.
Tim was taken aback too.  He was a tall man, but Peter stepped forward, unafraid.
"Fuck off." Peter said, as if Tim was an annoying fly.
And then the tutor retreated into his room, closing the door behind him.
Years after I left Mitchell College, I started to see Peter's name in the headlines.  He quickly rose to become a brilliant crime writer. Many of his books became TV series. I particularly enjoyed The Broken Shore. He was so economical with his descriptions and his stories kept you on the edge.  Imagine having to suffer students like me.
It's at this point I have to post some of the pertinent and hilarious comments he wrote on my major writing assignment (on my favourite subject: chocolate) at the end of my first year: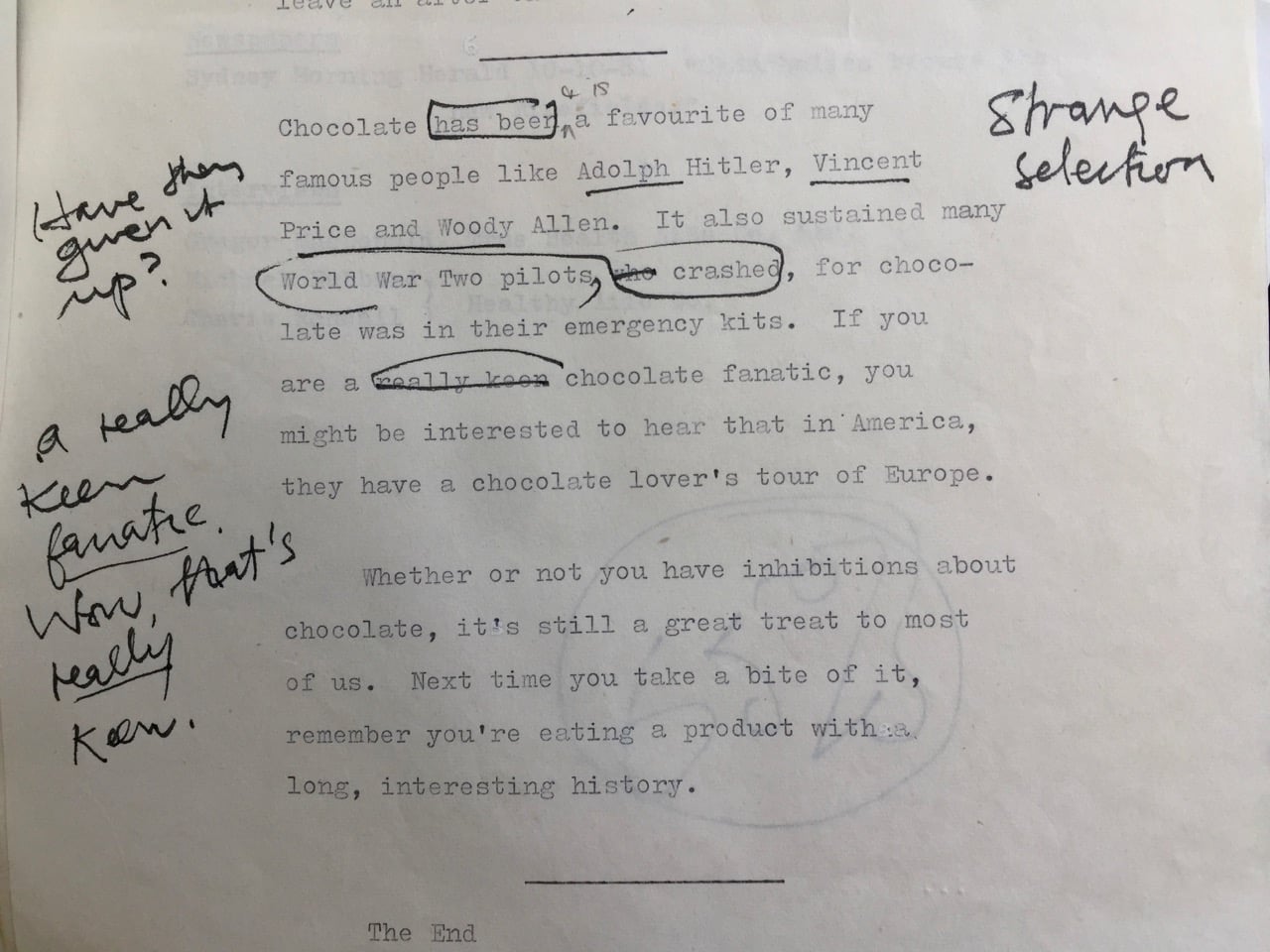 I didn't get a brilliant mark (65% when 55% was a pass, if I remember correctly) but I passed and without that, I wouldn't have moved into Year 2 of my degree.
In 2014, I blogged about the chocolate assignment after reminiscing with my first Mitchell College friend and now crime and romance author Jaye Ford.
A few days after my blog, incredibly, I received an email from Peter Temple.
The subject heading was "chocolate box".
"Just when you thought you'd got over it, someone mentions that first assignment …
I think about it every time I see you on the box.
Warmest, Peter"
I was gobsmacked.  At the time, apart from presenting my interview show One Plus One, I had embarked on my second book China Baby Love, but wasn't sure I'd make it to the end.  This is how I replied.
"Great to hear from you Peter.
I'm still a struggling writer, but it's becoming more important for me to write.  I'm not sure why. Always grateful for the first 65%
All the best, Jane"
And then he wrote this drop of magic.
"Imagine being remembered only for your face or your voice?
Struggle on.
Writing is a puny lunge at immortality.
Nice word, puny. PT"
That was our one and only exchange after Mitchell College.  I will treasure it.  #ValePeterTemple.