My Answer: the Most Rewarding Journey You've Ever Taken?
Thank-you for telling me about your spur-of-the-moment North American holiday in response to my question: what's been the most rewarding journey you've ever taken.
When I came up with this question, I was making preparings for taking my group to Ethiopia, so I had exotic travel on my mind.  However, I wanted people to interpret the question for themselves.  So, I put it out there… and I wasn't disappointed.
Sarah, this community shared stories about risks taken, hobbies discovered, new loves and fresh passions.  We learned about sudden and deepening friendships and surprising connections.
You told me about an impulsive decision to take a holiday with your friend after she waved a newspaper ad at you.  The trip brought you joy and magic which you still think about four years later!
Sarah, can I share with you one of my most rewarding journeys?
"Dear Ms Hutcheon…"

(The Old House)
One day in October 2017, I got an email from a man in Texas I had never met before.  His name is Yuteh Ma. He was born in Shanghai and migrated to the U.S. in the 1980's.  Yuteh had just read my first book From Rice to Riches and in the email wrote that his father had worked for my Mum's family, the Cumines.  He mentioned their first names, the big house where they lived. He particularly enjoyed the description in my book of a certain type of Chinese tea – Keemun tea – which has always been the preference of my Mum and her family.  Yuteh said his family only ever drank that kind of tea too.
A few months, a few dozen emails and many FaceTime conversations later, Yuteh and I decided to meet in Shanghai and explore the places where our families had lived and worked.  Yuteh's family history goes back centuries.  His mother and brother still live in Shanghai, in modern apartment buildings in the suburbs.  However, the era where his Dad worked for my Mum's Uncle Henry was from the 1930's to the 1950's. After the Japanese occupation and then the Communist takeover, Uncle Henry lost all his property, and begrudgingly moved to London.
The entire tale is too long to tell here.  However, I did allude to some of my Mum's story in my parting interview for One Plus One.
Sarah, the most magical moment of the Shanghai trip for me was when Yuteh and I returned to the house where my Mum lived. It was built by Mum's Uncle Henry. Despite Shanghai's modern make-over, the old house still stands in the former French Concession where glimpes of the past are tucked around every corner.  When the Communists came to power, the house, home to a single Eurasian family since the 1920's, was subdivided into six apartments. Incredibly, Yuteh had a connection to one of the residents.
His old friend agreed to show us around. In the grounds of the old house, I was desperate to find the flat where my Mum lived following the death of her beloved mother Elsie. Mum was five when Elsie died. As Yuteh and I chatted to the excited neighbours, I noticed a burst of greenery on top of what used to be a row of garages. Great Uncle Henry loved his cars. My Mum often mentioned a rooftop garden.  She said part the roof had been renovated to create the room where she lived with her aunt and cousin.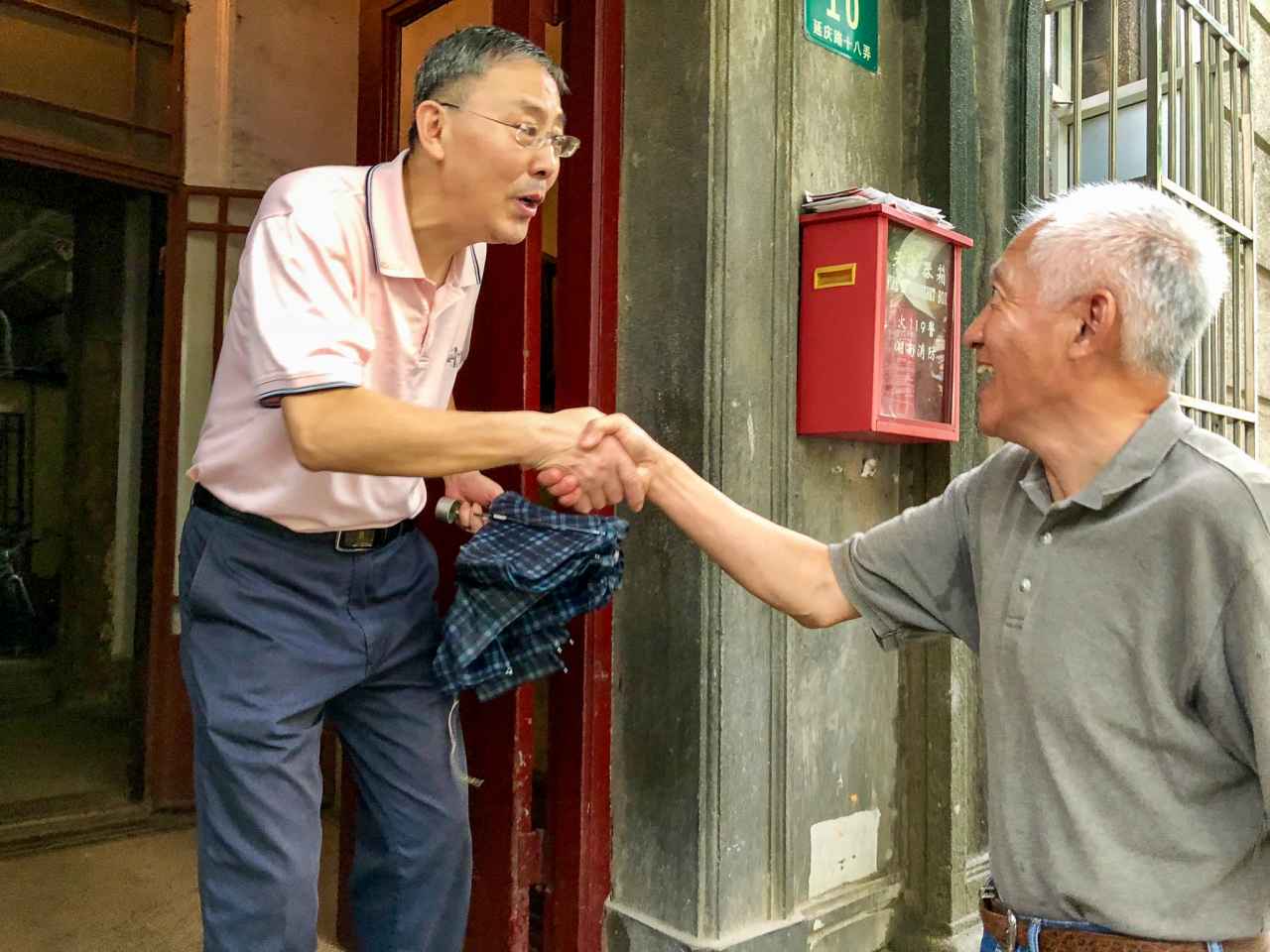 I asked if there was some way I could get onto the roof.
Within minutes Yuteh and I stood outside the door to the little flat.  Someone rents that space now. The residents were not home.  As I closed my eyes, I felt a lifetime of my Mum's stories danced around me like a grainy, virtual newsreel. I could SENSE I was in the right place.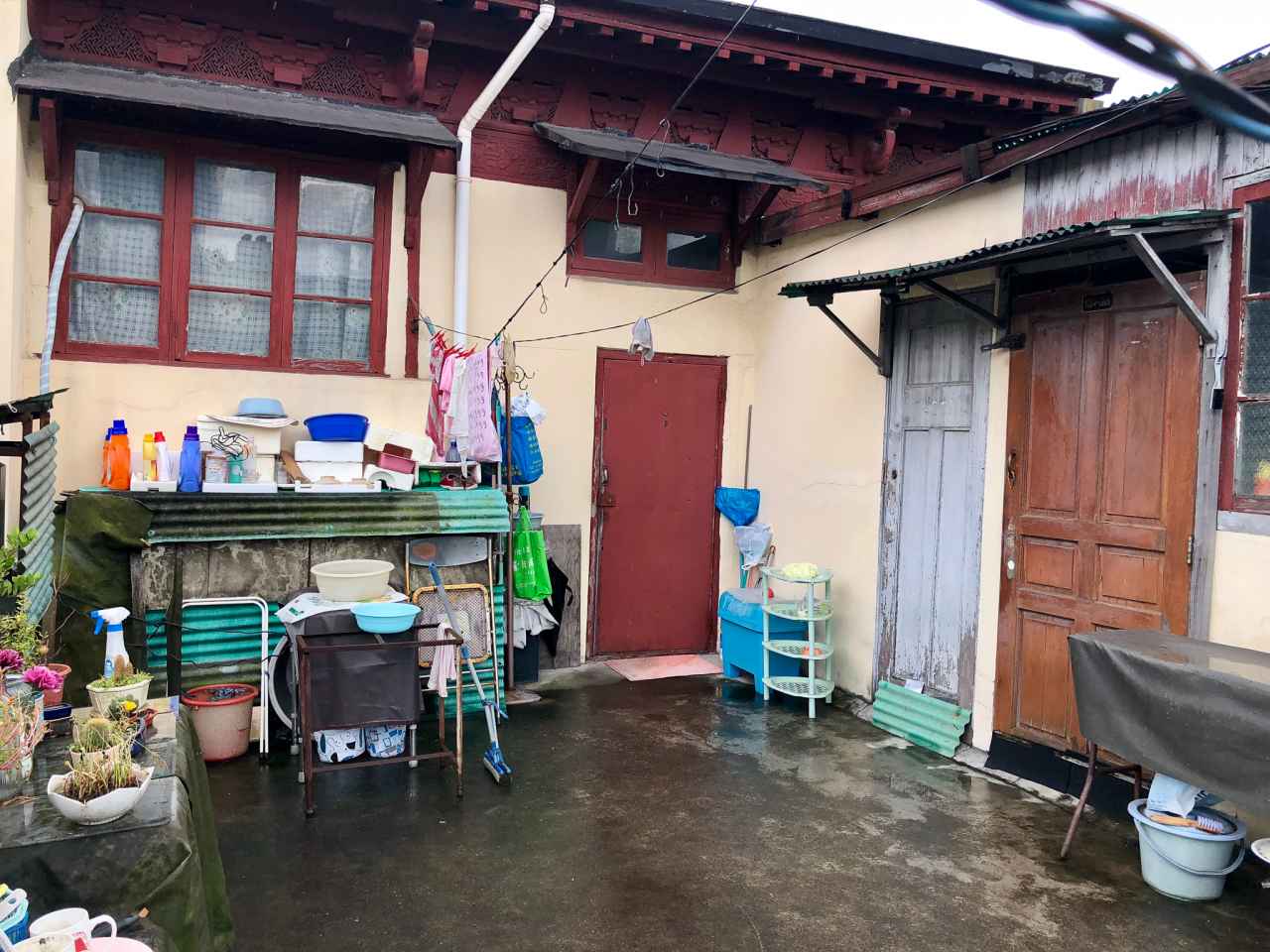 Yuteh and I are still friends and we talk about finishing our respective and connected Shanghai stories.
So Sarah, while this particularly journey isn't yet finished, unlike yours, I marvel at serendipitous connections and the joys of interwoven stories.
Thank-you for your response and friendship.
Love,
Jane